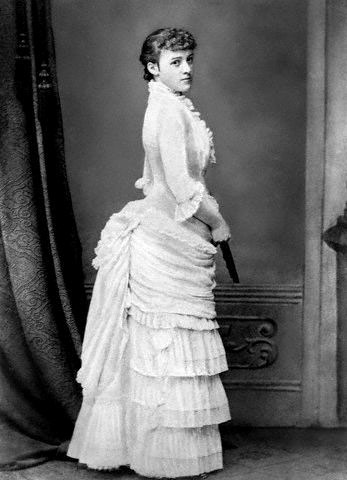 Edith Wharton
Last year, my fellow teacher and Jane Austen fan
Mary
and I organized an event at our school where all of our 7th and 8th graders read a classic book during the third quarter, research the life of the author, and then dress up like their author. On the day of the event, they assemble some visual representations of their author's life and workspace, and they sit at their "writing desk" and answer questions from other students, staff, and community members about their life and works. I wish I could post photos of the wonderful costumes that my students came up with last year--there were some students who were absolutely amazing!
I love the fun spin on the classics, and I love that, with the help of abridged classic books and reader's theater adaptations,
all
of our students can participate at their reading level, and answering the questions orally helps a lot of students who struggle with taking the information from their research and putting it into their own words for a writing project.
This is my, "I write serious, inscrutable literature" face.
I had such fun at the event last year, and I'm so excited we're doing it again this year, even though I was a little stressed about putting together my own costume. Last year I went as James Joyce (and I read
Dubliners,
though I admit I've never been able to manage more than about fifteen pages of his novels before I have to go back and start over...) In any case, dressing as Joyce wasn't perfect, but I at least managed to don a dress shirt, a tie, and a hat. I also attempted to imitate his thick black spectacles, but the best part was actually the wispy eyeliner mustache that I do not have a photograph of and which startled me a little to see how masculine it made me look.
Edith at age 19
This year I read
Age of Innocence
by Edith Wharton, and I've greatly enjoyed learning about her life and writing, but the entire time I was reading, in the back of my mind, I was thinking,
but how am I going to dress up like her???
I mean, look at her clothes. The painting at left is explained
here
, at this fascinating site that explores paintings of the people and places of Wharton's life.
"In 1881, when Edith was nineteen, she was painted in London by Edward Harrison May. He captured her keen intelligence, and at the same time her fashionable dress, with its narrow waist, puffed sleeves, and bustle--showing her at once the debutante and also the keen observer who would later become the brilliant writer."
So. Kind of a daunting task, to dress like her. I scoured our drama closet for some kind of dress options. My main hope was for something with maybe some lace at the throat and possibly a poofy skirt that I could pretend was bustle. I layered several dresses on top of each other (all of which were, strangely enough, sized to fit a middle school girl, haha!) and sort of sewed in some pieces of fabric to make up for the fact that none of the clothes actually fit me (I am wearing two full dresses plus another skirt/petticoat thing underneath it all), and
voila!
I have a costume!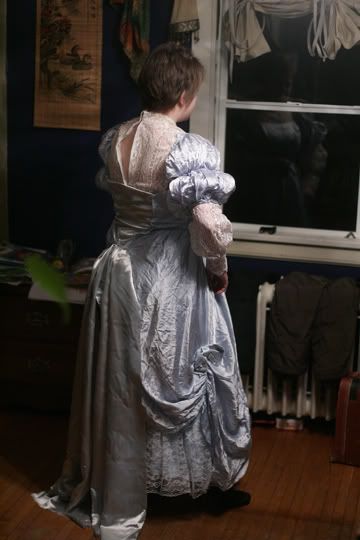 I look, maybe not like Edith Wharton, but maybe like a slightly unfashionable guest at a social event that Wharton may have also attended? A guest who is a sloppy seamstress and has lost her corset? Maybe.
Now. I just need to find a good hat.