I love to read aloud. In fact, most of the people who have spent any time with me have probably heard me read to them--"Listen to this," I'll say, and read a bit from whatever I'm in the middle of. I read to my students; I read to my children every night: Sharon Creech's
Ruby Holler
, Beverly Cleary's
Ramona
series, Judy Blume's
Tales of a Fourth-Grade Nothing
, and all of the Laura Ingalls Wilder books.
On many occasions I've read aloud to D. as well, like when we read all of Douglas Adams'
Hitchhiker's Guide
series or when we finished Neil Gaiman's
Stardust
on the edge of Lake Isabel in Glacier National Park, pausing in between paragraphs to bang our sticks together to keep the bears on the other side of the lake from wandering over to sample our peanut butter tortillas.
I read on road trips--the hour between home and the grandparents' place is frequently filled with the sounds of Cornelia Funke's
The Thief Lord
and
Inkspell
or Robert C. O'Brien's
Mrs. Frisby and the Rats of NIMH
. I even read aloud when I'm all by myself--either from my own works in progress or from published authors, especially poetry. All poetry gets read aloud.
I read to my students--delivering Old Major's dream speech from Orwell's
Animal Farm
and Jacques' "All the world's a stage" speech from Shakespeare's
As You Like It.
Some of my favorite moments in homeroom are the times I have read to them: for my sixth graders the light and whimsical prose of Katherine Hannigan's
Ida B.
and the endearingly earnest voice of Addie from Leslie Connor's
Waiting for Normal,
and my eighth graders enjoyed the heavier themes of Laurie Halse Anderson's
Speak.
Maybe I just like the sound of my own voice--it's certainly possible. But what I love about reading the words of a wonderful author aloud is the music of it, the way the words fall into a beautiful rhythm. I love to capture that music, or at least to try, to embrace the beauty of dialogue, of a well-placed pause. And, okay. I like to have an audience. It's the drama geek in me.
In college, I studied Spanish, and I read almost all of the assigned readings aloud, practicing my accent, enjoying the
musicalidad
of the words, the way the phrases would almost dance with each other on my tongue. I think reading aloud not only improved my Spanish-speaking skills, but also my "ear" for the language, and the same can be said for reading aloud in English.
Reading the words of great writers influences my own writing, and hearing them spoken--paying attention to the sound of the words as well as their meanings--inspires me to work toward that same sense of rhythm and...even pitch, it seems, that my favorite authors achieve.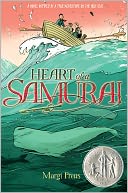 Another thing I love about reading aloud, especially with my kids, is that sense of being able to share what I'm reading with someone else, to hear and see
and share
their reactions. When Jabber and I read Kate DiCamillo's
Because of Winn-Dixie
, we read the last four chapters with our arms wrapped tightly around each other, squeezing tight so we could feel the story together. I love encountering new words, learning about different times, and places, and the great discussions we get into (even when they're silly, like my sons' fits of giggles that resulted from reading about how Margi Preus' protagonist has to try to drink his own urine to survive on Bird Island, in her Newbery Honor book,
Heart of the Samurai,
which we're in the middle of reading right now.)
What about you? Do you have favorite readaloud books, or memories of reading aloud from childhood (yours, or a child you have read to)? Do you read your own writing aloud to hear the rhythm of the prose, and if so, do you think it helps?